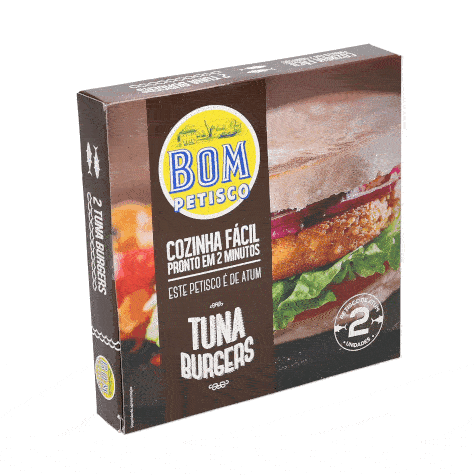 Ingredients: Tuna (52%), Water, Sunflower oil, Breadcrumbs (contains gluten), Wheat flour, Onion, Egg powder, Sugar, Garlic powder, Salt, Parsley, Thickener (guar gum).
Allergens: Fish (TUna), gluten (breadcrumbs), wheat flour, egg
Average values per 100g of drained product
| | |
| --- | --- |
| Energy | 831kJ/199kcal |
| Fat | 10g |
| Of which saturates | 1,4g |
| Carbohydrate | 9,2g |
| Of which sugars | 2,1g |
| Fiber | 0,8g |
| Proteins | 17g |
| Salt | 1,2g |
Storage conditions:
The product should be stored at room temperature, away from humidity, dirt and other factors which may modify the packaging.
Directions:
In the frying pan, add a drizzle of olive oil and let it brown, about 2 minutes;
In the oven, heat the oven to 180ºC and place the Tuna Burger approximately 5 minutes or until golden brown;
In the microwave, heat for 1 or 2 minutes on medium power. Should be consumed immediately after preparation.
Produced for:
COFACO AÇORES S.A.
Rua Prof. Carlos Alberto Mota Pinto nº9, 4ºC
1070-374 Lisboa Portugal
Produced in Thailand
Tuna Source: Consult packaging.
FAO Zone 51: Western Indian Ocean
FAO Area 57: Indian Ocean East
FAO Area 71: Western Central Pacific Ocean
FAO Area 77: Eastern Central Pacific Ocean
TUNA HAMBURGER 2X75 G
Tuna Hamburger